The Journal of Michael & Loida Thurmond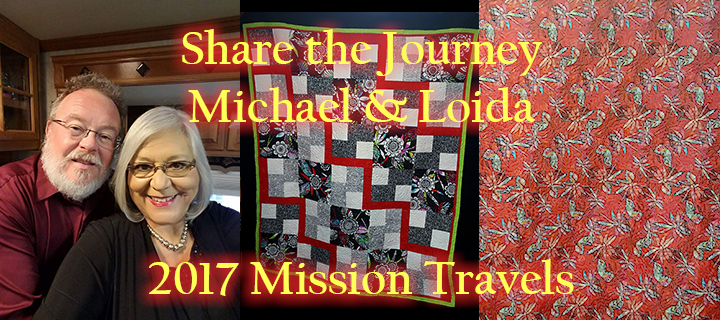 Hello and thanks for dropping by. This is a randomly updated journal to track (heaven only knows why) our travels and on occasion thoughts and experiences on life. The primary focus will be on the shared experiences of Michael (that's me) and Loida, my wife. We are living in a 35′ RV and travel about the United States. We drop in on family and friends; and visit parks or other places of interest. Please feel free to make suggestions on where we should visit. We also plan to interrupt our travels from time to time by joining on medical and faith related mission trips. Loida and I have each been to Haiti several times; to Nicaragua with "Hope for Nicaragua" and to Kenya with the Second Baytown church.
On a basic level I am using this to make notes as we travel across the U.S. in our motorhome. There are descriptions of the RV in some of the early 2015 posts. I'll add more about it as time goes on. Like most of these post it will just depends on when the notion strikes. I will try to update the blog more often but I make no promises.
Let's start with some fun, meaningless facts. I got them from the Internet so they must be facts.
Meaning and Name Origin
Thurmond \th(u)-rmo-nd, thur-mond\ as a boys' name. Thurmond's name origin is Old English, and the name Thurmond means "Thor's protection". Thurmond is a variant of Thormond (Old English): A baby name that is not broadly used.
Michael \m(i)-chael\ as a boys' name (also used less commonly as girls' name Michael) is pronounced MYE-kal. It is of Hebrew derivation, and the meaning of Michael is "who is like God?". Biblical: Michael is the archangel who defeats the dragon. He and Gabriel are angels given personal names in the canonical Bible. In the Middle Ages, Michael was regarded as captain of the heavenly host and patron of soldiers. He was often depicted carrying a flaming sword, and sometimes guarding the gates of Paradise. Many saints, emperors, and kings have borne the name, and there are many variants, male and female.
Loida \loi-da\ as a girls' name is pronounced LOY-dah. It is of Latin origin. The meaning of Loida is "desirable". Loida is generally used as a girl's name. Loida is a form of Lois. See Lois for further details. Loida is a great choice for parents looking for a more unique name. An auspicious name, it is one that will be admired. It is the name of Timothy's grandmother found in Paul's second letter to Timothy (in the Spanish Bible.)
Thanks to the folks at Think Baby Names for that insight into our names.