We are only a week away from our departure to Haiti. In Haiti we will meet with residents of the Haiti EcoVillages — where survivors of the 2010 quake have built a community of self-sufficient, small farmers, and hear their stories. We plan to meet, pray and maybe even sing with some of the Haiti EcoVillagers who are part of a house church. We will be in Haiti on Palm Sunday, so we are looking forward to worshiping with our fellow Christians. The Atlanta Church Group has partnered with the Eco-Villages to build and staff a school for the children of the Eco-Villages.
Bridging Worlds with Art
Art is such an exciting and accessible way for people of all cultures and backgrounds to share their stories. We are now in the process of implementing a very creative art project in our Atlanta churches and schools. This project aims to allow children in Atlanta and Haiti to share information about their lives and dreams through drawing and conversation. We began the project with the children in Atlanta. When we watch the children work on their art, and talk with them about their gifts and talents, we see the start of a bridge between these children and their new friends in Haiti. We have heard stories about the significance of family connections and dreams fostered by a supportive adult's love, and how God brings happiness to those who love others. A few sample pieces of their art appears below. It is our hope that these art pieces and heartfelt conversations will become the basis for a fresh experience of compassion across Atlanta and Haiti. We can't wait to see what else God has in store when we work on this project with the children in Haiti!
We look forward to working as part of the team that will document the art project with the children of the school. We also hope to take a closer look at the family lives of the children and their parents in the Eco-Villages. Our primary focus is to help in building bridges between the people of Haiti and the people of Atlanta, as we work to build a sustainable school for the children of the Eco-Villages. We thank you for your prayers for our team, as we prepare for this mission trip to Haiti.
Michael & Loida
Update on the Quilt
The response to our quilt raffle has been wonderful. At this point we are nearing 100 entries. With the Haiti trip approaching we will wait until after our return to set a date for the raffle. Most importantly we want to thank everyone for your interest in our mission travels.
A note on the donation buttons. This links go to my business PayPal account (Tsoftware.) It is a convenient way to receive money when your home is an RV and moves about. If you would prefer to send a check you can use my South Dakota address which is 514 Americas Way #6319, Box Elder, SD 57719. When we stop for awhile, I have to mail sent to our location. If you have questions please send me an email or call at 678-472-0457. In any case we appreciate your thoughts and prayers as we travel to Haiti next week and as we plan for the Nicaragua (http://hope4nic.com) trip in August.
| | | |
| --- | --- | --- |
| In return for your support we will enter your name in the drawing for the quilt. | In return for your support we will enter your name in the drawing for the quilt three times. | In return for your support we will enter your name once for each $10, in the drawing for the quilt. |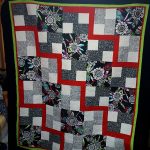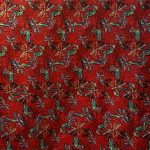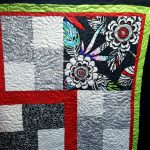 The front and back of the quilt with a close up of the quilting pattern.
Seeds of Hope — Haiti Eco-Village see https://www.haitiecovillageschool.org/
Hope for Nicaragua with BMDMI see http://hope4nic.com/